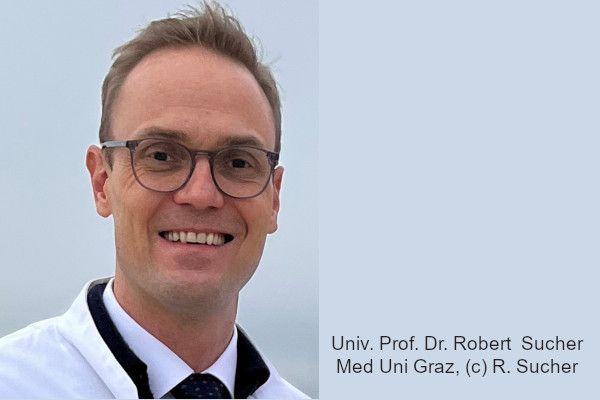 Mit Wirkung vom 01. Jänner 2023 wurde Univ.-Prof. Dr. Robert Sucher für das Fach "Allgemeinchirurgie und Viszeralchirurgie" an die Medizinische Universität Graz berufen und mit der Leitung der Klinischen Abteilung für Allgemein-, Viszeral- und Transplantationschirurgie (AVT) betraut. 
Internationale Erfahrung
Der 43-jährige Kärntner ist durch seine langjährige Tätigkeit in führenden Universitätskliniken in Österreich, den USA und Deutschland mit den Aspekten der modernen Klinikführung vertraut und hat diese in den vergangenen sieben Jahren in der Universitätsklinik Leipzig medizinisch und wissenschaftlich äußerst erfolgreich umgesetzt.
Intraoperatives Imaging und Künstliche Intelligenz als Schwerpunkte
Durch die interdisziplinäre und interprofessionelle Integration klinischer und vorklinischer Einrichtungen an der Medizinischen Universität Graz wird Robert Sucher gemeinsam mit den Mitarbeitenden der AVT neue Behandlungs- und Forschungsschwerpunkte in der minimal invasiven onkologischen Chirurgie und in der Transplantationschirurgie schaffen. Dazu gehört auch die Anwendung moderner intraoperativer Visualisierungstechniken bei komplexen Leber- und Pankreasoperationen, sowie die Nutzung von künstlicher Intelligenz.
"Wir möchten ein Umfeld schaffen, das optimale Patient*innenversorgung, hohe Mitarbeiter*innenzufriedenheit, exzellente universitäre Lehre und innovative Forschung ermöglicht", beschreibt der neue Professor seine Vision.
Zur Person
Robert Sucher wurde 1979 in Klagenfurt geboren. In Innsbruck schloss er sein Studium der Humanmedizin 2004 ab und habilitierte mit 32 Jahren im Fach Chirurgie an der Universitätsklinik für Viszeral-, Transplantations- und Thoraxchirurgie der Medizinischen Universität Innsbruck. Er ist Facharzt für Allgemeinchirurgie, Viszeralchirurgie und Gefäßchirurgie mit Zusatzbezeichnung Transplantationsmedizin.
Am Starzl Transplant Institute der University of Pittsburgh Medical Center USA arbeitete er an der Entwicklung neuer immunosuppressiver Therapieprotokolle für die Organtransplantation und an der Charitè – Universitätsmedizin Berlin wirte er beim Aufbau eines minimal invasiven Operationsprogramms im Bereich der Leberchirurgie mit. An der Universität Leipzig erwarb er eine außerplanmäßige Professur und an der Handelshochschule Leipzig absolvierte er berufsbegleitend ein MBA-Studium im General Executive Management.
Robert Sucher arbeitete zuletzt an der Universitätsklinik Leipzig als leitender Oberarzt und stellvertretender Klinikbereichsleiter an der Klinik und Poliklinik für Viszeral-, Transplantations-, Thorax- und Gefäßchirurgie. Er ist national und international in Gremien chirurgischer Fachgesellschaften vertreten und erhielt zahlreiche Auszeichnungen für seine wissenschaftlichen Arbeiten, unter anderem den Excellence in Research Award des American College of Surgeons und den Destinguished Fellows Award der American Society of Transplantation.
Weitere Informationen:
Univ.-Prof. Dr. Robert Sucher
Professor für Allgemeinchirurgie und Viszeralchirurgie
Medizinische Universität Graz, Universitätsklinik für Chirurgie
Klinische Abteilung für Allgemein-, Viszeral- und Transplantationschirurgie
Tel.: +43 316 385 12755
This email address is being protected from spambots. You need JavaScript enabled to view it.
(GZ)
Quelle: Medizinische Universität Graz
Foto: (C) Robert Sucher
Bei Rückfragen zum Artikel wenden Sie sich
bitte direkt an die im Artikel angegebene Kontaktadresse.
Der Beitrag Neue Forschungs- und Behandlungsschwerpunkte im Fokus erschien zuerst auf Jobbörse und Netzwerk für Naturwissenschaftler /-innen.
Read more https://life-science.eu/neue-forschungs-und-behandlungsschwerpunkte-im-fokus/